Counselling and therapy with Nickei
I am an experienced, friendly counsellor and psychotherapist and have been practicing since 1992. I really enjoy working with people to help them make the positive changes in their life, so that they live more authentically and sustainably, and can shine with the joy and confidence of doing so.
My practice is called LifeWorks, as I know life can be productive and enjoyable. I love to witness people experiencing this, once they identify and enlist the right supports and actions for themselves. People are such potent beings when they're healthy and and have purpose; it's great work supporting people to recover this within themselves.
I work with adolescents (16+) and adults. I also work with groups. I specialise in helping people dealing with stress and burnout, (as it's so prevalent), as well as those with  anxiety, depression, relationships, workplace difficulties, etc.
I particularly enjoy helping people grow their whole person wellbeing. You can do this either 1:1 in sessions, or in my one day workshops called "Grow your Wellbeing". I'm happy to travel  if you'd like a day workshop in your region.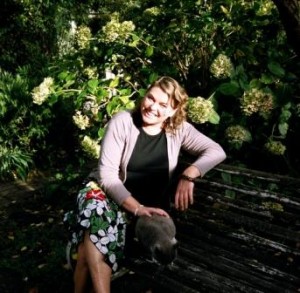 Nickei with Grey the cat
I am a registered psychotherapist with the Psychotherapy Board of Aotearoa New Zealand (PBANZ), and a registered counsellor with the New Zealand Association of Counsellors (NZAC). I am also approved to provide EAP/workplace support and counselling with a number of providers.
How to access counselling
Getting the right counsellor/therapist is really important. You will know this  if you've already been to counselling and either had a really good experience or a not so good one. It's important that you feel comfortable with your counsellor and that there is a 'click'.
I offer an initial, no obligation session where we can see if I am the right counsellor for you. It is an hour long and it allows us to get to know one another a bit.      This initial session is charged at my usual hourly rate.
Feel free to email me with your phone number and I'll call you to discuss an appointment.
Appointments are also available via Zoom.
Some funding for counselling may be available. I am happy to discuss this with you when you ring.