I am an experienced, friendly counsellor and psychotherapist and have been practicing since 1992. I really enjoy working with people to help them make the positive changes in their life, so that they live more authentically and sustainably, and can shine with the joy and confidence of doing so.
I am a registered psychotherapist with the Psychotherapy Board of Aotearoa New Zealand (PBANZ), and a registered counsellor with the New Zealand Association of Counsellors (NZAC). I am also approved to provide EAP/workplace support and counselling with a number of providers.
My practice is called LifeWorks, as I know life can work and be enjoyable. I love to witness people experiencing this, once they identify and enlist the right supports and actions for themselves.
I work with adolescents (16+) and adults, and I also work with groups. I offer short talks on "The Sustainable Self", a model of personal sustainability.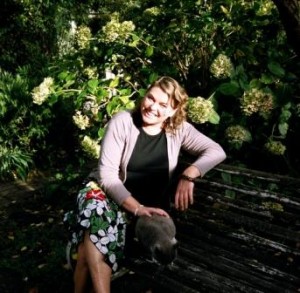 Nickei with Grey the cat
How to access counselling
Getting the right counsellor/therapist is really important. You will know this  if you've already been to counselling and had either a really good experience or a not so good one. It's important that you feel comfortable with your counsellor and that there is a 'click'.
I offer an initial, no obligation session where we can see if I am the right counsellor for you. It is an hour long and it allows us to get to know one another a bit.  I also gather basic information from you and find out what it is you would like from the two of us working together and how often you might like to come. This initial session is charged at the usual hourly rate.
You can make contact directly with me; feel free to ring me (ph: 03 3650483) or email me to discuss an appointment. If I am unable to answer the phone, leave a message and I'll get back to you-probably on the same day.
Appointments are also available via Skype; please email me so we can set this up.
Referrals for counselling can also be made by your doctor, midwife, psychiatrist, naturopath, herbalist or other health professional.
Some funding for counselling may be available. I am happy to discuss this with you when you ring.
Supervision and Workplace Mentoring for Professionals
I am an experienced supervisor and have worked with both individuals and teams in both the community and private sector, either individually, in groups or via Skype.
I offer individual and/or group supervision for people working in helping roles as counsellors, psychotherapists, social workers, community workers and/or community support positions. I am also experienced in supervising students training in these modalities. Most people don't work in people-based roles or the helping professions because they can't get a job elsewhere. It's usually a considered decision which is borne out of an urge to assist others. Good supervision I believe, takes the whole person into account, and the better you support yourself and are supported, as a person, the better you will function in your role.
Prior to training as a counsellor and psychotherapist, I worked in middle and national management positions with large teams of people. I have an experiential knowledge of team dynamics and the particular challenges within management roles. I am skilled and experienced at providing mentoring, coaching and supervision for mangers in the commercial, private and government sectors.
I can also tailor supervision or mentoring packages to suit your needs; including sessions which combine personal and professional development.
To discuss these options, please contact me.